Advanced Microscopy -
van Leeuwenhoek Centre for Advanced Microscopy (LCAM)
Director Prof. Dorus Gadella and operational manager dr Mark Hink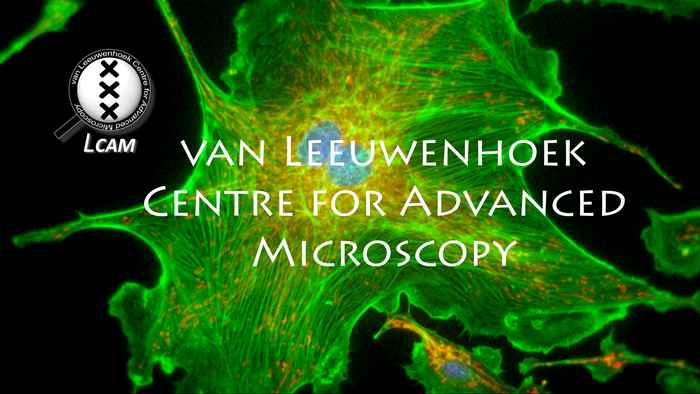 The goal of the van Leeuwenhoek Centre for Advanced Microscopy-FNWI is to boost Life Sciences research using (optical) microscopy techniques. This expertise centre facilitates molecular cellular studies by providing support in translating biological questions into microscopy approaches and by providing state-of-the-art microscopy (training) infrastructure for researchers. Because of the integrated expertise and advanced instrumentation, the centre has triggered significant collaborative research projects both within and outside SILS.
Most prominent activities within LCAM-FNWI are within the domain of functional imaging microscopy: FRET, FLIM, FC(C)S, PCH, FRAP and dynamic multiparameter imaging including spinning disk, (spectral) confocal and multichannel widefield (ratio) imaging with the connected digital image processing and analysis.
LCAM is a collaboration between the faculty of science (LCAM-FNWI) of the UvA, the Academic Medical Center-Amsterdam (LCAM-AMC) and the Netherlands Cancer Institute (LCAM-NKI). Recently LCAM has become a Euro-BioImaging flagship centre for functional imaging and high content microscopy.
Read more about van Leeuwenhoek Centre for Advanced Microscopy
Genomics and transcriptomics
Group leader Dr Timo Breit
Omics is defined as the study of genes and genomes, their functions, plus related techniques, bioinformatics, and computer infrastructure. As such, omics is a multidisciplinary subject, aimed to understand life-sciences topics through the analysis of DNA (genomics) or RNA (transcriptomics). The most-important involved omics elements are here: techniques - microarray technology and next-generation sequencing (NGS); bioinformatics - statistics, modeling, and systems biology; computer infrastructure - high-performance computing (HPC) and research data management (RDM); biology - whole-genome experimentation plus complexity and multilevel reasoning. Within SILS, the genomics and transcriptomics expertise is traditionally positioned in the UvA expertise center MAD: Dutch Genomics Service & Support Provider. From 2000 on, the MAD has, in close collaboration with SILS and external partners, built an impressive genomics and transcriptomics instrumentation and know-how on all mentioned omics elements. These are, just like the other SILS underpinning technologies, made available to SILS researchers, giving them an important competitive edge. The MAD expertise is also available for external collaborating partners or on a service-for-fee basis for clients. To ensure the necessary link with research, the MAD staff is also part of the RNA Biology & Applied Bioinformatics group.
Read more about Dutch Genomics Service & Support Provider (MAD)
Mass Spectrometry
Group leader: dr Gertjan Kramer
Mass spectrometry is a core technology in both metabolomics and proteomics and generates much of the "big data" for systems biology. At SILS the Mass Spectrometry Core provides research support to scientists (SILS, FNWI, Amsterdam UMC and External) looking to apply metabolomics or proteomics analyses in their research. We provide support and advise from project inception to data analysis (often in collaboration with the Advanced Data Analysis group) and all steps in between. We use state of the art LC- and GC-MS to support a wide range of proteomics-, untargeted metabolomics- and lipidomic-analyses. In addition, our research group is continuously developing new methodologies to provide new ways of applying mass spectrometry in the life sciences.
Read more about the research group Mass Spectrometry of Biomolecules
Continue to the Mass Spectrometry Core Facility Website (FNWI internal only)
Research Support Portal
For anyone looking for other support before, during and after your research, you can check out the UvA Research Support Portal. This can involve facilities, training, project support or more.